Makes 20-40 pastry pockets
Prep time: 75 minutes | Cooking time: 6½ hours
There is a custom at start of the Jewish new year, and especially on Sukkot, to eat stuffed foods, signifying abundance following the harvest season.
Sweetened with honey (for a sweet new year), spicy with harissa and plentiful in number, these succulent brisket bourekas are perfect snacks year-round, but are a particularly wonderful Yom Tov starter or second meat dish.
In addition, they are great value. You will use around half the brisket for the pastry parcels and have half left for a whole other meal. Make sure to reserve some of the cooking liquid to reheat the leftover brisket in. The meat freezes well and the honey sweetened, chilli-hot pulled brisket can be piled over rice, or served in burger buns or wraps for other meals. Cook once. Eat twice.
Ingredients
1.2kg – 1.5kg (2.5-3lb) Flat Brisket
2 Brown Onions sliced in rainbows
1 tbsp Paprika
1½ tbsp Harissa Paste
1 tbsp Honey
3 cloves Garlic peeled and finely sliced
¼ tsp Salt
¼ tsp Ground Black Pepper
1 Bay Leaf
2 tbsp Olive Oil
800g (2 tins) Chopped Tomato
1 roll Puff Pastry
1-2 Eggs beaten
Method
For the brisket
You can cook your brisket in a large pot on the stove or a slow cooker. If using a slow cooker, add all ingredients except the egg and pastry and cook on medium-low heat for 6-8h, or until brisket pulls apart. Skip to step 6.
In a large pot with lid, big enough to comfortably sit the whole brisket,add 2 tbsp olive oil and warm on the stove over a medium heat.
Add onions and salt and fry for 2-3 minutes, stirring regularly.
Add pepper, paprika and garlic and stir to combine. Add harissa paste and honey and continue cooking, stirring regularly, until onions are translucent. Do not allow garlic to burn.
Lay brisket on top and add 2 tins of tomato and bay leaf. Add water as needed to ensure meat is covered (up to 800ml/4 cups water).
Bring to boil, then turn down to a simmer and cook covered for 6 hours, turning the brisket every two hours.
Remove half your brisket and refrigerate or freeze with reserved cooking liquid.
Shred the second half of the brisket and add in one ladle of cooking liquid and onions so the brisket mixture is succulent but not soggy. Allow to cool completely.
To make the parcels
Preheat oven to to 200°C / 180°C fan (Gas Mark 6 / 400°F). Line baking trays with foil and baking paper.
On clean work surface, roll out a pre made roll or brick of defrosted puff pastry to around 5mm thickness, and cut into squares roughly 10cm x 10cm. You should get about 20 squares from a roll.
(Don't stress if they aren't perfectly square or identical in size. Spare dough can be stuck together and re-rolled out.)
Take a pinch of meat (around ⅓ cup) of meat per pastry, and place toward the centre of one diagonal corner of the square, as shown below. You will be folding them into triangles, so you should allow room for the fold, and to seal the edges, as shown (fig. 1).
Fold the empty half over diagonally to create a triangular pocket, and carefully press down the edges to seal in the meat (fig. 2).
Use a fork to crimp the edges of the pastry triangle and then use a pastry brush to brush each one with egg. Place on a baking tray leaving some space around for them to grow.
Cook in the oven for 20 to 25 mins or until golden
Repeat until all your pastry has been used.
The cooked pastry pockets can be made in advance and frozen, and are easily reheated. Ideally reheat uncovered or loosely covered to allow condensation to escape.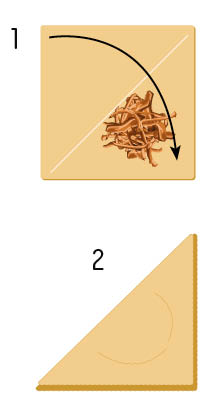 These pastry pockets are also great with mushrooms! CLICK HERE TO TRY!
(Image Credit: Sophy Weiss Photography)